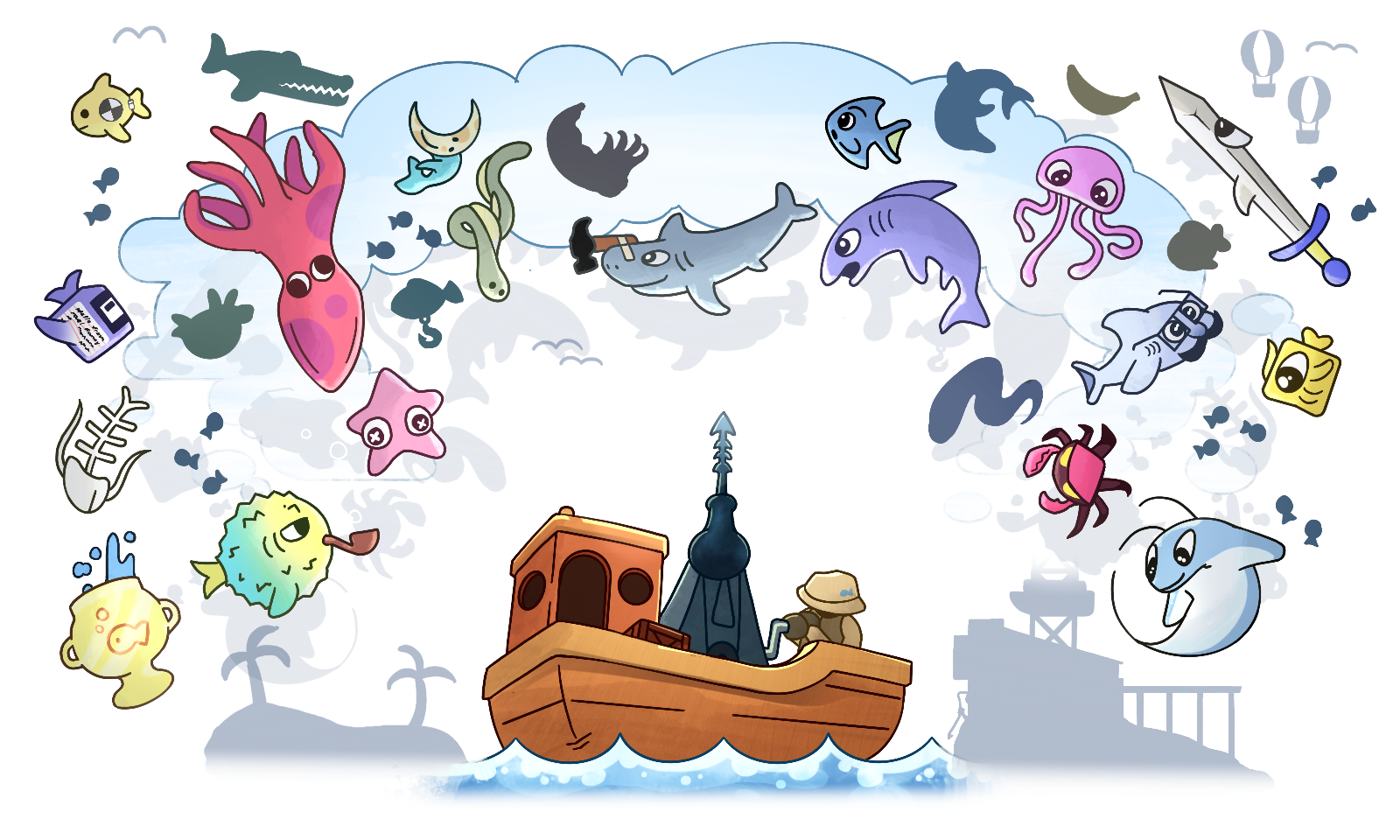 Made by ToadleyUnderControl
Sink your line to the deepest depths of the Reel-istic Sea, and return to the surface, catching any fish in your way! Unleash those fish into the air, and snipe them with your trusty harpoon!
Sell those fish to fill your ship to the brim with corals, and use those corals to purchase an assortment of upgrades and equipment from your friendly (and suspiciously fish-like) local shopkeep!
Take caution though... you're not the only unstoppable force in these waters.
"One of the few games I finished on Playdate. A lot has to be done right for that to happen." - Nino

"Probably not the fishing game you imagined when first using the crank, but definitely the fishing game your Playdate deserves!" - Orkn

"Of-fish-ially one of the best hauls you can get on Playdate for $8! Caught me hook, line and sinker but I'm not cod-plaining." - ComfyCrow
---
Legendary Fish Hunters
Coding/art/story by Toad
Logo, launcher animations, Catalog & dating art by Rae!
Majority of SFX designed by Jared Richardson!
Soundtrack composed by Marcus Richardson!
Music box track composed by AstariaJay!
Seashell Serenade composed by Rupert Cole!
A plethora of fruits & veggies drawn by CaSquall!
Real cow moo from Brian Dorsey
Expert spellchecking from my dad!
Tons of awesome support along the way from my family, and the community.
Playtesters
47.8 MB.
First published 10/10/2023, last updated 11/03/2023.
We think this game is appropriate for everyone. If you do not feel comfortable catching fish, then there is an option to catch fruits/vegetables instead!
This game uses the D-pad, A and B buttons, and the crank. Most uses of the crank have a D-pad alternative, but you will need to crank at a medium pace to paddle the boat (there is a fast travel option in the settings to override this).