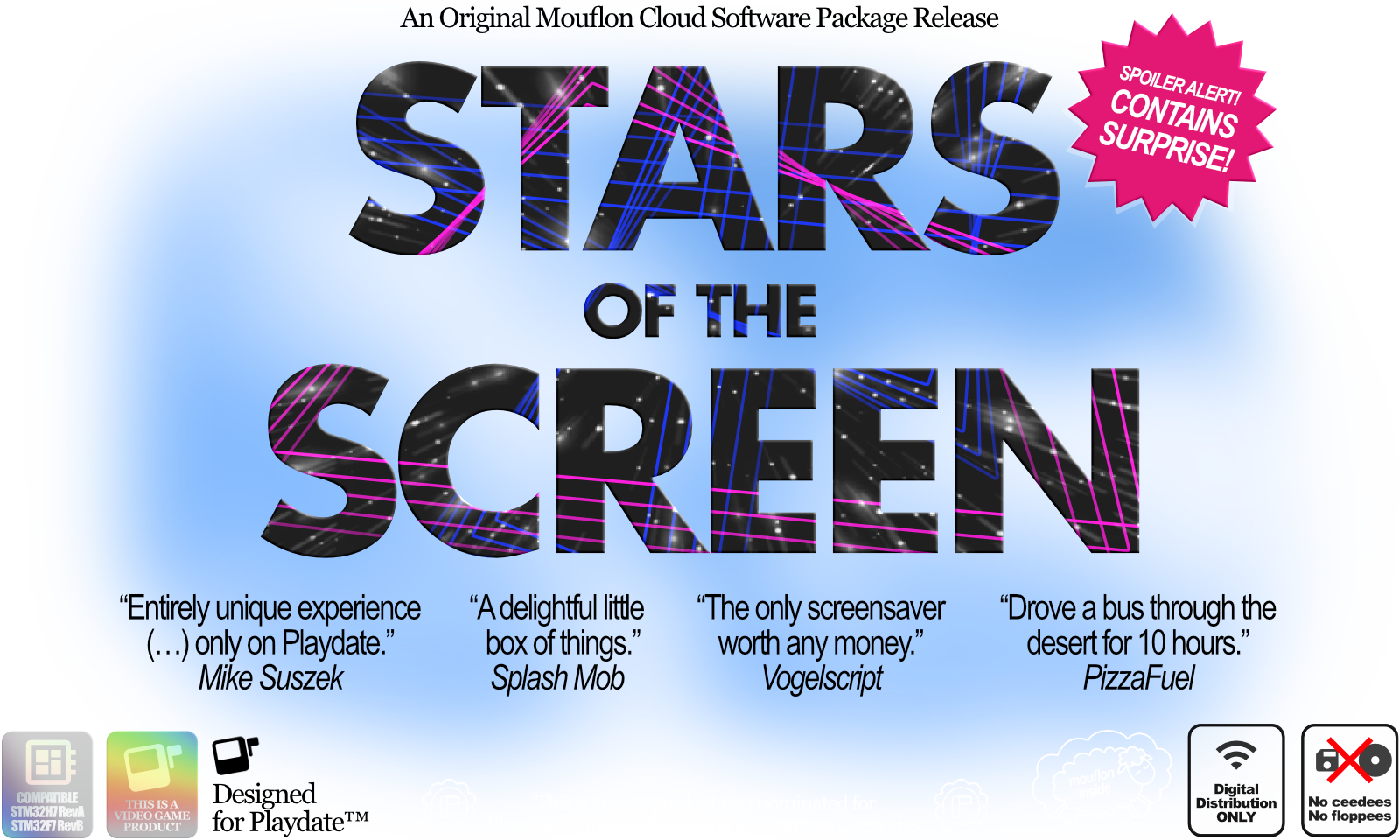 Stars of the Screen
Made by Mouflon Cloud
Stars of the Screen hides something in its miniature tributes to screensavers and games. Can you find it? It might be a control scheme. It might be a game. It might be a joke. It might be a tear in the corner of your eye. It might be a message. Only you can find it! (Besides all the others who play the game, sure.)
Top Player Goals
Gain muscle mass while loading new levels with the crank! (In your face, SSDs!)
Enjoy just the best part of Solitaire!
Watch screensavers for extended time (specifically the DVD one) and smile wistfully, thinking of the Stereo Dock!
Drive that bus!
Enjoy freshly ground coffee, perhaps from Saturn Valley beans?
Visit a haunted mansion!
Install software from infinite floppies just like in the old days!
Mash buttons and then stop and proceed to pressing them methodically! (That's a pro tip.)
Find out what's invisible to the eyes... at least at first.
Credits and big thanks
Concept and code by Jan Martinek at Mouflon Cloud
Development support by the best Pajka & Františka
Build atop Noble Engine made by Mark LaCroix
Playtested by @simjnd, @Duncan, @OrangeTHIEF and u/udenfox
This game could not exist without Freesound.org (see details in the ingame credits and on the developer's website), the friendly communities of Playdate Squad Discord and dev forum, and this beautiful piece of melty cheese from Panic!
Thank you all for playing!
7.2 MB.
First published 06/20/2023
This game is appropriate for everyone.
This game hides controls from players and uses some non-traditional inputs as a part of its puzzles but does not require excessively precise inputs. The opening chapter of the game requires extensive cranking. • This game uses autosave to keep track of your progress. • If you get stuck and want some help with any of the puzzles, see the walkthrough linked in the section "More cool info".